Send flowers and gifts to Bulgaria for Christmas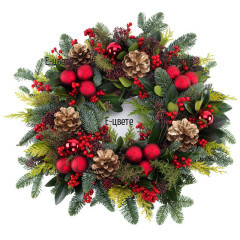 Dear friends, probably many of you think that flowers and bouquets are part of every celebration and gift and their giving is never superfluous. We are sure, however, that there are those among you who consider it excessive, illogical and pointless to give flowers on Christmas. 
We cannot agree with them. In the following lines, we will introduce you to flower arrangements and bouquets, as well as original gifts that you can choose from our flower shops throughout Bulgaria

First of all, we should mention that Christmas and New Year are holidays, and how can a holiday pass without flowers and bouquets. Flower shops - online or real - offer you a wide variety of thematic bouquets, tailored to the season and holidays:

1. Poinsettia - you can't help but be familiar with the Poinsettia (Poinsettia). As the winter months approach, it begins to adorn offices, shops, homes. Its bright, red, slightly obtrusive petals give a festive look to the surrounding decor. In combination with an original Christmas flower pot, the Christmas star becomes a must-have gift that will delight family, friends or colleagues in the office, bring festive spirit and remind everyone that one of the most wonderful holidays of the year is coming - Christmas. The affordable price of the potted flower is another plus to take advantage of.
2. Christmas Wreaths - "Christmas is here" - whispers a beautiful Christmas wreath of fir branches hanging on the front door. With each passing year, Christmas wreaths become a must-have part of Christmas decorations and the festive layout of the home or office. Christmas wreaths are an original and holiday-appropriate gift. They are mainly made in a basic green tonality, but very often we can also see Christmas wreaths in red or white. If you're looking for artificial Christmas wreaths - visit home goods stores, souvenir shops or gift shops. But if you want to impress someone with a wreath made of natural materials - visit the nearest flower shop. Christmas wreaths are made from seasonal greenery - conifer branches, ribbons, dried fruit, pine cones, plenty of Christmas toys and bells, snow spray.

3. Christmas arrangements - is there a holiday table without a Christmas arrangement on it. Small or large, round or elongated, it gives a festive and finished look to the Christmas decoration in the home. Christmas arrangements are very diverse. They have no established shape, color or constituent elements. Most often, florists and flower shops rely on traditional Christmas arrangements of Christmas greenery, ribbons, roses, minigerberas, chrysanthemums, carnations, candles - thin and thick. Arrangements can be made on piaflora - a special sponge that preserves the durability of flowers. Arrangements made in a glass vessel are also common. They are more formal and voluminous, but their price is also slightly higher because of the vessel used. To make it more colorful and festive, various Christmas toys and cones are added to a Christmas arrangement.

 4. Christmas bouquets - flowers have no season, limit or prohibition to give them as gifts. Christmas and New Year holidays offer a completely different line among bouquets and flower arrangements. In general, in each bouquet we find specific Christmas greenery - fir branches, ilex, Christmas toys - small or large or different slices of dried fruit. Mainly flowers used by florists are roses, chrysanthemum, lily, amaryllis. Bouquets are round, medium in size and finished with a large satin ribbon or Christmas wrapping paper.
 5. Flowers and gifts - make a combination between a poinsettia, a bottle of wine and a teddy bear, impress with originality with a festive Christmas fruit basket or create a romantic festive atmosphere with a bouquet of roses and a Christmas basket of wines and cheeses. We offer you various holiday products - Christmas gift baskets, fruit baskets, flower and fruit baskets. They are all decorated appropriately for the upcoming holiday. Christmas greenery emphasizes the holiday spirit, and cute and shiny toys complete the overall composition, which will help the holiday stay in your home for a longer time.