The product has been added to your cart.

About flowers and Christmas
In the following lines you will find answers to the most frequently asked questions related to Christmas and the place of flowers on the holiday.



What is their symbolism, do they have a place among holiday gifts, and what is the "most Christmas" flower?

See in the next post of online flower shop E-cvete.com.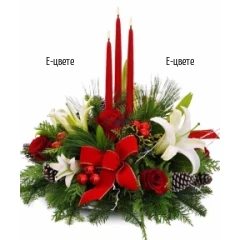 What is the flower considered the greatest symbol of Christmas?
Without a doubt, the flower most often perceived as a symbol of Christmas is the poinsettia.

The poinsettia is a symbol of home comfort, family happiness and is an integral part of the festive decoration during the Christmas holidays

.



In what tonality should the flowers that we give for Christmas be?
The main color range preferred by both florists and customers is red.
In all flower shops you will find a variety of bouquets and festive arrangements of red roses, red chrysanthemums, red amaryllis and carnations.
More and more often, white bouquets and arrangements also occupy a place among holiday gifts of flowers.
Combined with candles and Christmas balls in silver tonality, they are part of the festive decoration for Christmas Eve and Christmas.
Also, in most florists and online flower shops, poinsettias in white color can be purchased and ordered.



Are there traditional Christmas flowers, and if so, what are they?
The most traditional and popular flower for Christmas is certainly the poinsettia.
With its large flowers and rich red color, it takes the lead in holiday arrangements from the beginning of the month of December.
Another very popular Christmas flower is the amaryllis, which is often found arranged in Christmas bouquets or planted in a pot.
Are flowers an appropriate gift for Christmas?
Of course!
Flowers are a popular gift for Christmas Eve and Christmas, as well as for the following holidays.
This is especially true if you can't visit your loved ones in person and don't want to just send a standard Christmas card in the mail.
More and more florists and especially online flower shops offer delivery of flowers for Christmas and New Year.
What type of flower arrangements are most often given as gifts for Christmas?
Based on our experience and our customers' preferences, the most common Christmas gift that includes flowers is the Poinsettia.

Gifted alone, in combination with a holiday decoration and/or with an additional gift, it is present in almost every order for the holiday.

The second place is shared by Christmas table arrangements and flower bouquets with Christmas decorations.

The first ones are mainly medium in size with 1 or 3 thin or thick candles, lots of decoration in the form of Christmas balls, bells, dried fruit and abundant Christmas greenery.

The bouquets of flowers are mainly classic arrangements in red and white tonality, with the main greenery for them being elm and pine branches and pine cones.

Immediately among them we can arrange the Christmas wreaths placed on the front door, above the fireplace or used as part of the festive decoration in the home.

Christmas gift baskets are more than diverse and include a combination of different chocolate treats, many and varied, seasonal fruits, flowers, poinsettias and holiday decorations, as well as mulled wine and other alcoholic beverages.

Also, let's not forget the different types of fancy cheeses, crackers, snacks, nuts and more.

You can view all our Christmas offers in the online flower shop E-cvete.com

.
Ordering flowers and gifts for Christmas is more than quick and easy, and delivery of Christmas bouquets and gifts is done as always - from local flower shops in the country.
Flowers are and always will be a symbol of love, gratitude and devotion.
They are the universal means to express our feelings in moments when words are not enough or we are far from relatives and friends.
Christmas is a holiday symbolizing family happiness and home comfort - what better day than this to give flowers?!
Wishing you happy holidays,
E-cvete.com